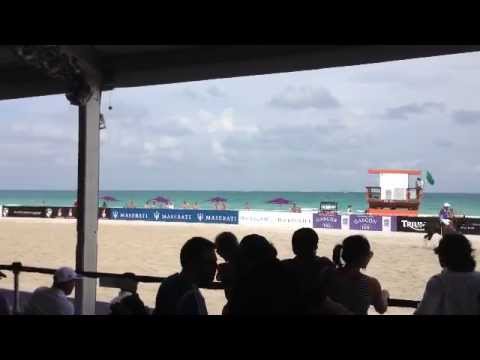 Last weekend, in spite of some rainy weather, over 12,000 locals and visitors enjoyed equestrian sports on the shores of the Atlantic when the eighth annual Miami Beach Polo World Cup set up between luxe properties The Setai and The W just off of Collins Avenue.
The competition, featuring both men and women players, included top ranked performer Rico Mansur from Brazil, as well as other polo masters from as far away as Russia, Switzerland and Malaysia.
Horsepower wasn't just on four legs, but in Maserati – the luxury car brand was the title sponsor for the first time this year. On the stretch of beach, thoroughbred horses and polo players competed, while spectators enjoyed CÎROC vodka cocktails under well-appointed tents.
Yacht lovers enjoyed the scene by pulling up anchor on the beach nearby in the turquoise blue waters. Residents of The W – where ONE | Sotheby's holds exclusive listings in condominiums – enjoyed the view from their balconies above the surf.
The event is the world's largest and most prestigious beach polo competition in the world, bringing the equestrian luxury lifestyle to the shores of Miami Beach each year.
To learn more, visit One Polo Life.
– Maria de los Angeles is a freelance wordsmith based in Miami.